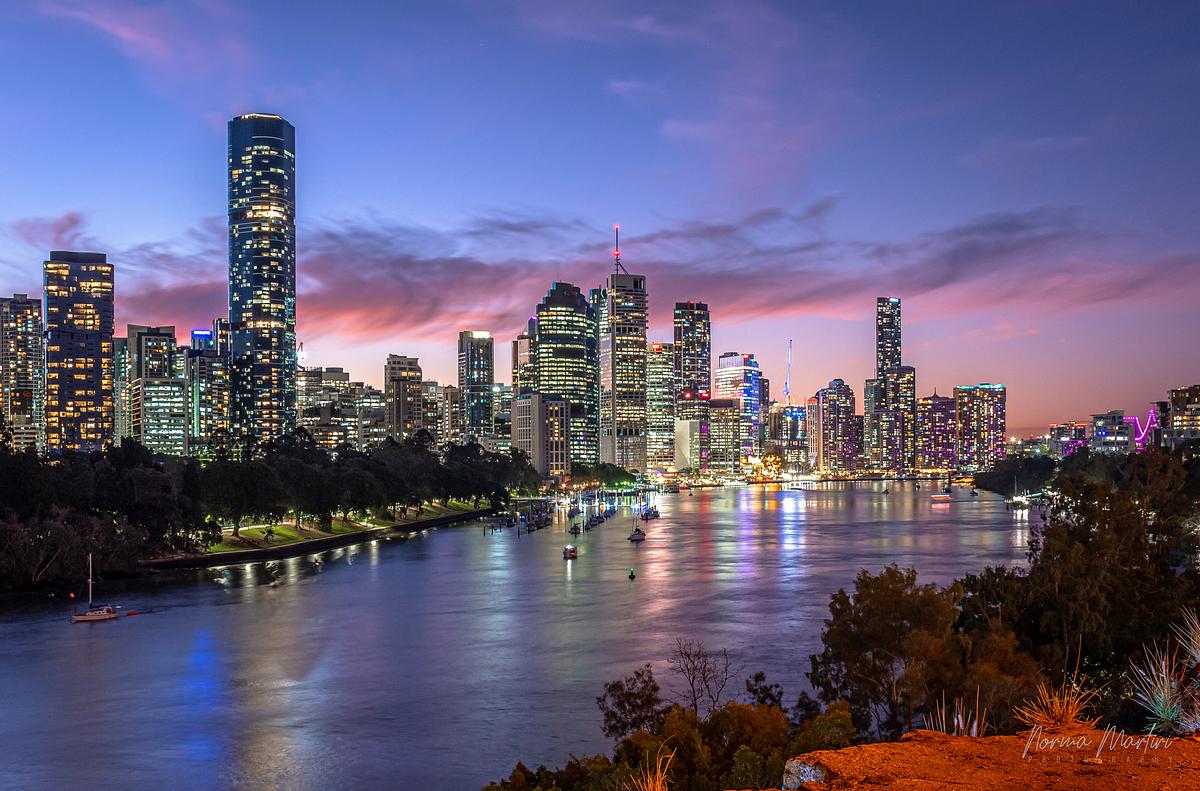 "I often think that the night is more alive
and more richly coloured than the day."
~ Vincent Van Gogh
How did it start?
I've been a night owl since my early teens so it only seemed fitting that I found my passion in night photography. It was by chance and came at a time when I was going through a significant transition in my life.

That was ten years ago and photography was changing. DSLR camera prices were dropping making them more affordable to average folk like me. My youngest child was in her last year of school and I was regaining time to do the things I wanted. I had just joined Facebook and the world was becoming digitalised. I loved technology so combining both this and photography became a way to feed my creativity.
I didn't know much about photography back then. While out one night, I took a photo of a storm rolling in with my little point and shoot camera. I thought it was a great photo and the colours of the night lights contrasting with the dark grey clouds stood out. I posted it on Facebook and received compliments from family and friends. This was just what I needed to boost my confidence and motivation. I cringe when I look back at the photo now because it was terrible!!! It's not something I would post today but it changed things for me.
After that, I started searching for anything I could find on photography. YouTube became my friend (yes, I'm still addicted). I watched tutorial after tutorial on how to use manual mode, exposure, shutter speed, long exposure and understanding ISO. The topics were endless and I was hungry. I took notes and practised. I did a few workshops, one of which was a night photography workshop and it was there that I found my passion . Nothing was going to hold me back. 
I tried different genres, even had a go at starting a family lifestyle photography business, but photographing people made me anxious. With an already stressful day job, I needed something calming.
"At night, when the sky is full of stars and the sea is still you get the wonderful sensation that you are floating in space." ~ Natalie Wood
What is it about night photography that is so intriguing?

A scene shot in the middle of the day can look dull and ordinary compared to the same scene shot at night. The camera captures the wonder and colour of a scene in a vastly different way than our eyes see it. The colours are rich and vibrant making the images much more interesting, magical even, and I love the contrast of light and shadows. After looking at my website, someone recently commented that she didn't realise Brisbane was so lovely.
Why is it different?
Night photography requires planning and patience as the camera works within a small window of time. Waiting gives me a sense of calmness. It's a welcoming pause in a world that moves too fast. Unlike family lifestyle photography, which is fast-paced, long exposure slows everything down. One photo could take anywhere between 15 seconds to an hour, depending on what you're taking. I like to take advantage of that time by staying off my phone, observing and reflecting. Sometimes you go home with only a handful of images compared to 500 images from a family session. It sure makes selecting photos a whole lot easier too.
What kind of gear do you need?
The essentials for night photography are basic and you don't need to spend a lot of money. My motto throughout my life has been KIS (keep it simple). I also apply this to my photography. When I first started, I had a basic DSLR (Nikon D5100) and a 50mm kit lens. I captured some amazing images with that camera and lens, some of which are still on my website. 
Start off with an entry level camera and in time you can look at upgrading. I found that night photography (and any photography) is more about technique than gear. Don't get caught up in the gear, it's very easy to do and we all know how good modern advertising is. Unless you want to go professional, spend time on learning your craft instead of spending money unnecessarily.
You will need a DSLR camera and lens, a tripod and a remote shutter release cable (or you can use the timer on the camera). Some additional items are: a torch (or your phone), a lens hood and always, always extra batteries and SD cards. Don't take any chances. I'm a minimalist and I don't carry a heavy bag packed with gear. I'm getting far too old for that.
Can an old dog learn new tricks?
Yes, this one did! It doesn't matter whether you're young or old, anyone can learn! There are thousands of photography websites and YouTube tutorials you can access for free. Learn the fundamentals and how to get off Auto mode. I would suggest sticking to reputable groups such as B&H, Digital Photography School, Fstoppers, Beyond Photography and SLR Lounge. Some of my favourite photographers are The Photographic Eye, Julia Trotti, Sean Tucker, Chris Bray, and Nigel Danson. If you are a hands-on person then there are affordable workshops held in most major cities. There is also a good selection of photography podcasts.
I haven't made much money from my photography but I am proud to say that I have sold images to top corporations, advertising companies and individuals. It's pretty tough out there if you're looking to make a living and the market is saturated. But it can be done if you put your mind to it. Above all it is the experience and the journey that matters most.
If you are interested in photography, learn what you can and have a go. Choose a genre (or two) that interests you, find your passion and do what you love. You never know where it may take you.